The world of Metro: Last Light is crafted by the ruins and destruction of a full-scale nuclear war. The post-apocalyptic genre of video games is well represented and they provide a chilling, emotional gameplay experience. Whether the strength in storytelling comes from the destruction around you, or the survivors amongst the ruins, the post-apocalypse is always an exciting backdrop.
So we want to ask you the question, what would YOUR Ultimate Post-Apocalyptic World consist of?
Cick here for Official Rules. User voting will commence of 4/23 and last until 4/30
How to Enter
THE FINAL ROUND IS UNDERWAY - VOTE HERE
Complete the forms below to create your own post-apocalyptic scenerio. These elements consist of Apocalyptic Event, City, Main Character, Weapon, Enemies/Villains, and Enviromental Hazards. The answers that you provide in these sections can be from any source, whether they exist from games/movies/television shows, or if they are your own original ideas! You will need an answer for each of the sections for your entry to be valid. Once enough entries have been gathered, a poll will be in place for users to vote on their favorite apocalypses! The selected winner will receive a prize! Let those ideas flow, good luck!
The Prize
THE FINAL ROUND IS UNDERWAY - VOTE HERE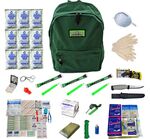 The selected winner of the poll will receive a custom Survival Kit! This handy kit could become really useful if the apocalypse actually rolls around! The mega-kit includes a variety survival items, including a gas mask, beef jerky, spam, and the Extreme Survival Kit, which includes so much survival gear, such as an outdoor backpack, water packs, compass, fire starter, carbon-steel knife, and so much more! It's all you could ever ask for when the world collapses!
Share This!
| | | |
| --- | --- | --- |
| Spread the word! | | |

Create Your Apocalypse!
THE FINAL ROUND IS UNDERWAY - VOTE HERE

Thank you for all your... enlightening... comments. The contest is over, however, and there is nothing left to speak of it seems. Thanks, for participating!  Chaosian   08:52, June 8, 2013 (UTC)
Ad blocker interference detected!
Wikia is a free-to-use site that makes money from advertising. We have a modified experience for viewers using ad blockers

Wikia is not accessible if you've made further modifications. Remove the custom ad blocker rule(s) and the page will load as expected.