So, i havent been too active lately, seems like all there is to do untill more Last Light info is to spell and spam check,and although i can spell properly, there isnt a spellcheck, which is kinda annoying. Anyways, congrats to smokey McPott, who is now a new sysop. You seem to be doing some great work,keep it up.
So, had an interview, and a call back interview for thursday, which hopefully will go well. If it does that means i'll be on £6.20 an hour and a possible 20+ hours a week. If it works out i'll be coming up on getting a new laptop, which will help with my college course. Talking of my course, i had a fresher's day. And about 6 people in my class, are either people from my primary school (Umm... the one before middle school for you forigeners) or from my previous secondary school. Which is annoting since there is a kid that i fell out with in my group.
During the awesome steam summer sale i purchased 3 games. Deus Ex 1 (Thankfully this game worked for me unlike Invisable War) Terraria, (My friend convinced me to get it, havent really gotten the point yet) and Killing Floor, which was a steal at £3, unfortuneatley the frame rate foes to hell when im playing, even at the lowest settings. I bought it as an investment. If i do get this job and a new laptop, the game will run perfectly.
In other news, the Metro Last Light official twitter/The Developers, have become fully aware of the Wikia. Look at his image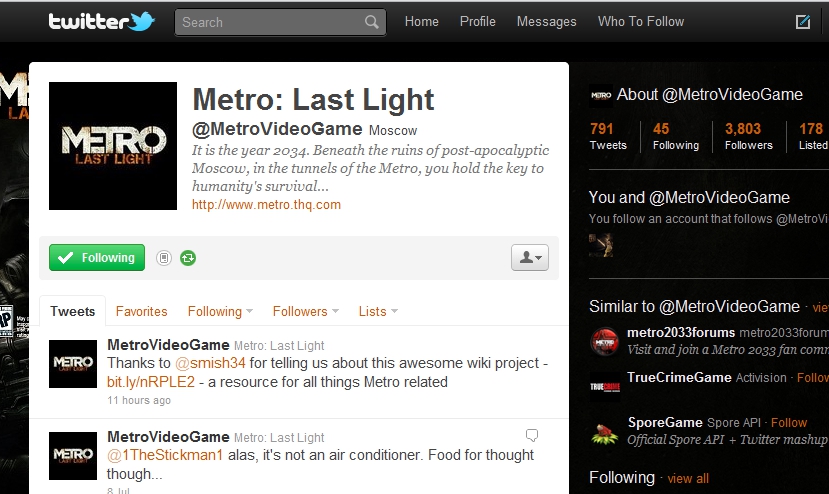 Ad blocker interference detected!
Wikia is a free-to-use site that makes money from advertising. We have a modified experience for viewers using ad blockers

Wikia is not accessible if you've made further modifications. Remove the custom ad blocker rule(s) and the page will load as expected.