True Spartan is an achievement/trophy in Metro: Last Light. It is awarded to the player after completing the level D6 without dying once. If Artyom dies, the player will need to restart the level. The achievement/trophy should unlock after the flamethrower heavy is dead, before the armoured train breaks through the wall. It is considered easy as long as the player takes cover throughout the level. Playing on a low difficulty is recommended; review the video guide below if you are having trouble.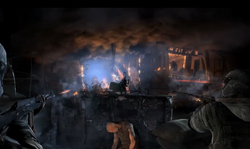 Ad blocker interference detected!
Wikia is a free-to-use site that makes money from advertising. We have a modified experience for viewers using ad blockers

Wikia is not accessible if you've made further modifications. Remove the custom ad blocker rule(s) and the page will load as expected.