This is the article page for Metro video game series. For related articles please refer to the category page. 
The Metro Video Game Series consists of Metro 2033, released in 2010, and the sequel Metro Last Light, released in 2013.
Metro 2033
Edit
 See also: Metro 2033 (Videogame) 
 See also: Category:Metro 2033 Video Game 
The year is 2033. An entire generation has been born and raised underground, and their besieged
Metro
Station-Cities struggle for survival with each other, and the
mutant horrors
that await outside. You are
Artyom
, born in the last days before the fire, but raised Underground. Having never ventured beyond your Metro Station-City limits, one fateful event sparks a desperate mission to the heart of the Metro system, to warn the remnants of mankind of a terrible impending
threat
. Your journey takes you from the forgotten catacombs beneath the subway to the desolate wastelands
above
, where your actions will determine the fate of mankind.
Metro Last Light
Edit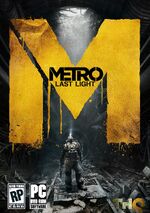 See also: Metro Last Light 
 See also: Category:Metro Last Light 
It is the year 2034. Beneath the ruins of post-apocalyptic Moscow, in the tunnels of the Metro, the remnants of mankind are besieged by deadly threats from outside – and within. Mutants stalk the catacombs beneath the desolate surface, and hunt amidst the poisoned skies above. 
But rather than stand united, the station-cities of the Metro are locked in a struggle for the ultimate power, a doomsday device from the military vaults of
D6
. A civil war is stirring that could wipe humanity from the face of the earth forever. As Artyom, burdened by guilt but driven by hope, you hold the key to our survival – the
last light
in our darkest hour…
Metro Redux
Edit
 See also: Metro Redux 
 See also: Category:Metro Redux 
Metro Redux is a post-apocalyptic first person shooter, and a two-part remake of Metro 2033 and Metro: Last Light for the PlayStation 4 and Xbox One consoles (it was also released for computers). It was developed by
4A Games
and published by
Deep Sliver
. The enhanced versions of both games can be bought together as a bundle or separately. The remake was also Metro 2033's debut on a Sony PlayStation console. For more detailed on each version individually, please see
Metro 2033 Redux
and
Metro Last Light Redux
.
Ad blocker interference detected!
Wikia is a free-to-use site that makes money from advertising. We have a modified experience for viewers using ad blockers

Wikia is not accessible if you've made further modifications. Remove the custom ad blocker rule(s) and the page will load as expected.