Forest Guardian is a hidden achievement/trophy in Metro: Last Light, awarded to the player for saving the giant bear, from the Watchmen, in The Garden. After fighting the Bear and injuring it enough, it will run away through the bushes. Follow it and you will find it being attacked by Watchmen, with its two cubs nearby calling for their mother. Simply shoot off the Watchmen on its back. The Bear will recover and look at you, but walk off with its cubs. The achievement/trophy will unlock soon after. It also gives a positive moral point.
Video guide
Edit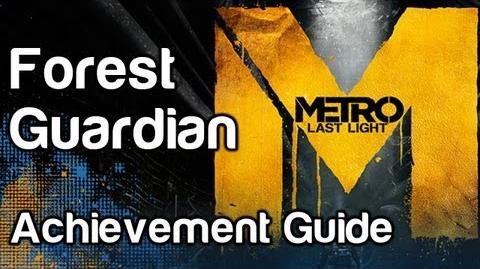 Ad blocker interference detected!
Wikia is a free-to-use site that makes money from advertising. We have a modified experience for viewers using ad blockers

Wikia is not accessible if you've made further modifications. Remove the custom ad blocker rule(s) and the page will load as expected.