This is the article page for characters. For related articles please refer to the category page. 
Spoiler alert!

This article contains plot information that may spoil major story aspects for the reader.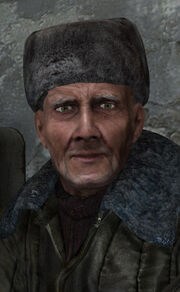 The Characters of the Metro Universe are the novel's and game's backbone. Metro 2033 has a large and diverse set of people, however, only a few are notable and have their own pages. Below is a list of some of the notable characters, with links to their pages and brief descriptions as to who they are.
Metro Series
Edit
Known Rangers
Edit
Associated Characters
Edit
Other Notable Characters of the Metro
Edit
Metro: Last Light
Edit
This article is in need of expansion.

You can help Metro Wiki by expanding it. After you are finished with this article, please remove the stub template in the edit screen.

Needs info.
Metro Exodus
Edit
Universe of Metro 2033
Edit
Characters Template
Edit
Use this template, found on all pages relating to particular people, for quick navigation and a more in-depth list.